Child Passenger Safety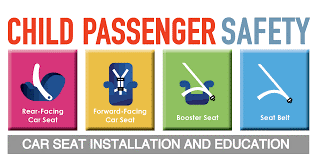 Buckle Up Every Age, Every Seat, Every Trip
Motor vehicle crashes are a leading cause of death among children in the United States. More than 600 children age 12 and younger are killed each year as passengers in motor vehicle crashes and more than 91,000 are injured. Many of these deaths and injuries can be prevented with the proper use of car seats, booster seats, and seat belts.
The Perry County Health Department staffs two Child Passenger Safety Technicians.  These technicians offer education and installation of child passenger safety seats.  We partner with MODOT and other Local entities to provide child passenger safety seats to the residents of Perry County.  To see if your child qualifies for a new child seat, call our office at (573) 547-6564 and ask for Angie or Danielle.
The Perry County Health Department provides infant/child passenger safety seats, seat checks, education and technical assistance at no cost based on the following requirements: 
ELIGIBILITY

Proof of residency in Perry County.
A Prenatal in the 7th to 9th month of pregnancy,infant,child, and adolescent 1-19 years old.
A parent or guardian of a child.
Person receiving the seat must have a vehicle with proper seat restraints. 

DISTRIBUTION 
Seats are issued by appointment and based on availability.
Seats will be distributed only to primary user (parent/legal guardian) to ensure proper operational instructions and usage.
Only one seat will be issued per child per stage.

PARTICIPANT MUST:
Complete the Child Passenger Checklist with signature and date.
Willing to receive instructional education on proper use and installation.
Agree to never sell the issued CPS seat.

PARTICIPANT MAY:
Return seat to the Perry County Health Department when expired or no longer in use.
For the Ultimate Car Seat Guide go to SafeKids.Org
To sign up for the child passenger seat program or to request assistance from Angie Schuessler or Danielle Verseman,  our Child Passenger Safety Technicians, please call 573-547-6564.